GENERAL DESCRIPTION
Originally built as a private luxury yacht, the M/Y Passion has been completely refurbished while still retaining many of its original elegant features such as its rose-colored marble bathrooms and teak wood decks that make this vessel one of a kind. The M/Y Passion, originally named Bellisima ("beautiful" in Italian), offers a sense of relaxed refinement and exclusivity, as the boat was never before used for tourism. Ideal for families and private charters, the M/Y Passion is 159 feet (48.5 meters) in length and is spread over four decks. The yacht boasts an exceptional amount of space for only 14 passengers. This exclusive vessel has ample social areas, a panoramic sky lounge and bar, separate dining room, wonderfully spacious sun decks for al fresco dining and a secluded sun deck with Jacuzzi for relaxation and privacy.
Accommodations & Facilities
All four staterooms are fully air-conditioned and each has its own private bathroom with bathtub. Additionally, our VIP and Master suites feature two en-suite bathrooms each. The ratio of one staff member per guest ensures first class, personalized service and the finest gourmet cuisine is served throughout the cruise.
TECHNICAL SPECIFICATIONS:
YACHT NAME: PASSION
CATEGORY: LUXURY
CAPACITY: 14 PASSENGERS
OPERATION: BALTRA
NUMBER OF CABINS: 6 CABINS
LENGTH: 159 feet (48,5 meters)
BEAM: (WIDTH) 28 feet (8,64 meters)
DRAFT: 10 feet (3 meters)
SPEED: 10 knots (18 km/h)
TYPE OF VESSEL: Motor Yacht
REBUILD: 1989 (Dania Yacht Design)
GROSS TONS: 459 tons
RANGE: 4000 miles
STABILIZERS: Electronic Vosper Stabilizers
ELECTRIC POWER SUPPLY: 240 V – 50Hz 120V – 60 Hz
DECK PLANS:
{tab-nested title="CABIN DECK" color_inactive_handles="true" outline_handles="true" outline_content="true" alignment="left"}
{tab-nested title="MAIN DECK"}
{tab-nested title="SKY DECK"}
{/tabs-nested}
CABINS:
{tab-nested title="MASTER SUITES" color_inactive_handles="true" outline_handles="true" outline_content="true" alignment="left"}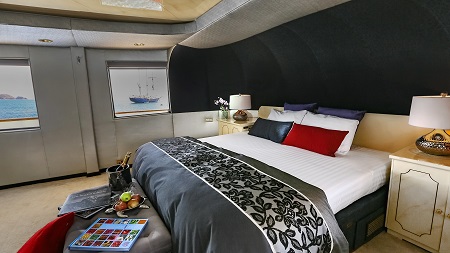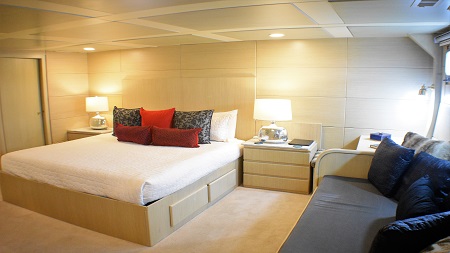 {tab-nested title="STATEROOMS"}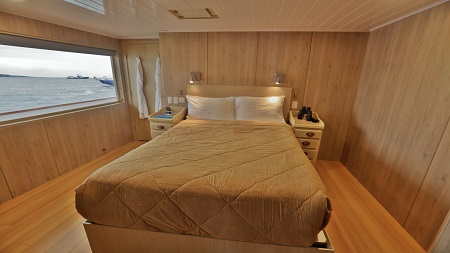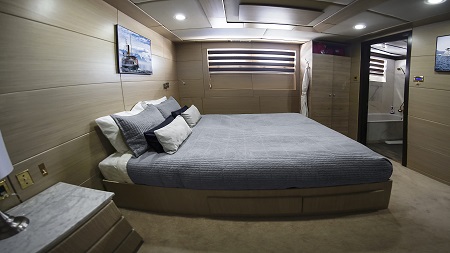 {/tabs-nested}
ITINERARY
8 DAYS ITINERARY EASTERN
SAT
AM: Baltra Airport: Arrival and Transfer to the boat
PM: Santa Cruz: Black Turtle Cove (SN/PR)
SUN
AM: Genovesa: Darwin Bay (HK/SN)
PM: Genovesa: El Barranco (HK)
MON
AM: Marchena Island: Espejo Point (HK/SN)
PM: Santiago: Sullivan Bay (HK/SN)
TUE
AM: Bartolome (HK/SN)
PM: Santa Cruz: Dragon Hill (HK)
WED
AM: Santa Cruz: Highlands (HK)
PM: Santa Cruz: Charles Darwin Station (HK)
THU
AM: South Plaza (HK)
PM: Santa Fe (HK)
FRI
AM: Española: Gardner Bay (HK/ SN)
PM: Española: Suarez Point (HK)
SAT
AM: Santa Cruz: Twin Craters (HK)
Baltra: Transfer to the Airport
5 DAYS "ITINERARY E1"
SAT
AM: Baltra Airport: Arrival and Transfer to the boat
PM: Santa Cruz: Black Turtle Cove (SN/PR)
SUN
AM: Genovesa: Darwin Bay (HK/SN)
PM: Genovesa: El Barranco (HK/SN)
MON
AM: Marchena Island: Espejo Point (HK/SN)
PM: Santiago: Sullivan Bay (HK/SN)
TUE
AM: Bartolome (HK/SN)
PM: Santa Cruz: Dragon Hill (HK)
WED
AM: Santa Cruz: Highlands (HK)
San Cristobal: Transfer to the Airport
4 DAYS "ITINERARY E2"
WED
AM: San Cristobal Airport​: Arrival and Transfer to the boat
PM: Santa Cruz: Charles Darwin Station (HK)
THU
AM: South Plaza (HK)
PM: Santa Fe (HK)
FRI
AM: Española: Gardner Bay (HK/ SN)
PM: Española: Suarez Point (HK)
SAT
AM: Santa Cruz: Twin Craters (HK)
Baltra: Transfer to the Airport
8 DAYS ITINERARY WESTERN

SAT
AM: Baltra Airport: Arrival and Transfer to the boat
PM: Santa Cruz: Highlands & Charles Darwin Station (HK)
SUN
AM: Floreana: Cormorant Point / Devil's Crown (SN/HK)
PM: Floreana: Black Beach / Asilo De La Paz (SN/HK)
MON
AM: Floreana: Post Office Bay (HK)
PM: Navigation & Whale And Dolphin Observation
TUE
AM: Isabela: Moreno Point (HK)
PM: Isabela:

Urbina Bay

(HK)
WED
AM: Isabela:

Tagus Cove

(HK/SN)
PM: Fernandina: Espinosa Point (HK)
THU
AM: Santiago: Egas Port (HK/SN)
PM:Santiago: Espumilla Beach / Buccaneer Cove (SN/HK)
FRI
AM: Santa Cruz: Bachas Beach (HK)
PM: North Seymour (HK/SN)
SAT
AM: Mosquera Islet
Baltra: Transfer to the Airport
RATES:
2022 PASSION YACHT PRICES PER PERSON
8 DAYS
5 DAYS
4 DAYS
STATEROOMS
$ 5,700 USD
$ 3,750 USD
$ 2,600 USD
SUITE
$ 6,270 USD
$ 4,500 USD
$ 3,120 USD
| | |
| --- | --- |
| THE RATES INCLUDED | DOES NOT INCLUDED: |
| ALL MEALS DURING THE CRUISE | ROUNDTRIP AIRFARE FROM / TO GALÁPAGOS |
| TRANSFERS ON THE ISLAND ON THE DAYS OF OPERATION | SOFT AND ALCOHOLIC DRINKS |
| VISITS AND EXCURSIONS ACCORDING TO THE ITINERARY | GALAPAGOS NATIONAL PARK ENTRANCE FEE (US $ 100) |
| ENGLISH SPEAKING NATURALIST GUIDE | INGALA CONTROL CARD (US $ 20) |
| | TIPS AND PERSONAL EXPENSES |
| | WETSUIT |