GENERAL DESCRIPTION
The Alya catamaran offers 9 comfortable cabins, as well as many social areas aimed at your comfort and relaxation. Our complete itineraries combine hiking, snorkeling, beach and kayaking; while our Certified Guides of the Galapagos National Park will introduce you to the most relevant sites.
The Alya catamaran design guarantees you smooth sailing in the seas surrounding the Galapagos Islands.
This luxury-class, 16-passenger boat offers the travelers a choice of eight-, five-and four-day cruises through the archipelago. The itineraries include snorkeling, kayaking and hiking. After the day's excursions, relax in the library viewing a movie from the DVD collection, or on the sundeck while enjoying a drink from one of the catamaran's two bars. You'll rest well in one of the nine pleasant cabins, eight of which have private balconies. All are equipped with private bathrooms, cold/hot water, air conditioning, safe box and other amenities. Throughout, the Alya yacht is elegantly and tastefully decorated.
The Alya eight crew members and bilingual, certified naturalist guide will assure you a safe and informative journey through the Galapagos Islands.'
TECHNICAL SPECIFICATIONS:
Year of construction: 2017
Type: Luxury Motor Catamaran
Length: 105 ft (32 m)
Beam: 43 ft (13 m)
Draft: 5,6 ft (1.70 m)
Cruising Speed: 12 knots
Capacity: 16 passengers
Crew: 8 members + 1 bilingual guide
Engines: 2 Cumming Motors 350 HP
Water capacity: 2.500 gallons
Diesel capacity: 2.500 gallons
Electric Power: 110V and 220V
Accommodation:*
Main Deck:
One 205ft² / 19m² double cabin. Four 215ft² / 20m² double cabins with private balcony. Dining room and Lounge
Upper Deck:
Four 172ft² / 16m² double cabins (all with private balcony).
Safety & Navigation: All equipment meets / exceeds the international safety standards:
Life vests
GPS
Sonar
Naval radars
Fire detection and prevention systems.
DECK PLANS:
CABINS:
KING CABIN
Upper and Main Deck:
- Convertible bed
- Exclusive decoration
- Panoramic ocean views
- Cabin size: 18 m2
- Private balcony
- This type of cabin is equipped with a private bathroom, spacious closets, feather pillows, cotton sheets, hot/cold water, air conditioning, hair dryer, internal phone, safe and loudspeaker.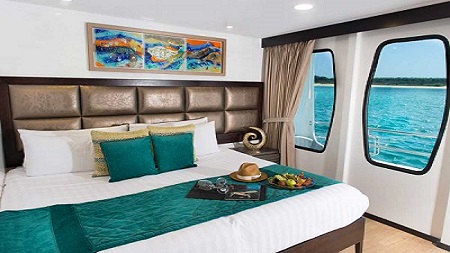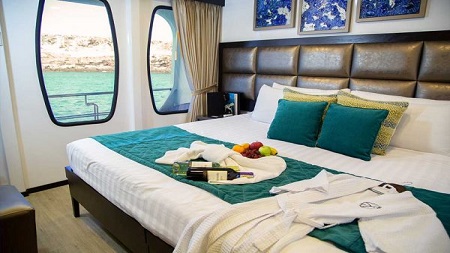 ITINERARIES:
5 DAYS "ITINERARY A"
THU
AM: Baltra Island: Arrival and Transfer to the boat
PM: Santa Cruz: Black Turtle Cove (SN)
FRI
AM: Genovesa: Darwin Bay (HK/SN)
PM: Genovesa: El Barranco (SN)
SAT
AM: Santiago: Sullivan Bay (HK/SN)
PM: Bartolome (HK/SN)
SUN
AM: Santiago: Chinese Hat (HK)
PM: Mosquera (HK/SN)
MON
AM: Santa Cruz: Charles Darwin Station (HK)
Baltra: Transfer to the Airport
6 DAYS "ITINERARY B"
MON
AM: Baltra Island: Arrival and Transfer to the boat
PM: Santa Cruz: Highlands (HK)
TUE
AM: Isabela: Moreno Point (HK)
PM: Isabela: Elizabeth Bay (HK)
WED
AM: Isabela: Urbina Bay (HK/SN)
PM: Fernandina: Espinoza Point (HK)
THU
AM: Isabela: Tagus Cove (HK/SN)
PM: Isabela: Punta Vicente Roca (PR/SN)
FRI
AM: Santiago: Espumilla Beach (HK/SN)
PM: Santiago: Egas Port (HK/SN)
SAT
AM: Santa Cruz: Bachas Beach (HK)
Baltra: Transfer to the Airport
6 DAYS "ITINERARY C"
SAT
Baltra Island: Arrival and Transfer to the boat
PM: Seymour (SN/HK)
SUN
AM: South Plaza (HK)
PM: Santa Fe (HK)
MON
AM: San Cristobal: Interpretation Center (HK)
PM: San Cristobal: Lobos Island (HK)
TUE
AM: Española: Gardner Bay (HK/SN)
PM: Española: Suarez Point (HK)
WED
AM: Floreana: Cormorant Point / Devils Crown (HK/SN)
PM: Floreana: Alieri Hill (HK)
THU
AM: Santa Cruz: Highlands (HK)
Baltra: Transfer to the Airport
| | |
| --- | --- |
| SN | Snorkeling |
| PR | Panga Ride |
| HK | Hiking |
RATES:
2022 ALYA CATAMARAN PRICES PER PERSON
6 DAYS
5 DAYS
UPPER OR MAIN DECK
$ 3,900 USD
$ 3,150 USD
| | |
| --- | --- |
| THE RATES INCLUDED | DOES NOT INCLUDED: |
| ALL MEALS DURING THE CRUISE | ROUNDTRIP AIRFARE FROM / TO GALÁPAGOS |
| TRANSFERS ON THE ISLANDS ON THE DAYS OF OPERATION | SOFT AND ALCOHOLIC DRINKS |
| VISITS AND EXCURSIONS ACCORDING TO THE ITINERARY | GALAPAGOS NATIONAL PARK ENTRANCE FEE (US $ 100) |
| ENGLISH SPEAKING NATURALIST GUIDE | INGALA CONTROL CARD (US $ 20) |
| SNORKELING EQUIPMENT / WET SUIT | TIPS AND PERSONAL EXPENSES |