Santa Cruz Western Islands
WESTERN ISLANDS
(Thursday - Monday) 5 days / 4 nights.
Our Western Galapagos cruise itinerary begins in Baltra, where we will board the ship and sail towards Dragon Hill on Santa Cruz Island for an interesting hike through palo santo forests that are full of the Galapagos' famed land iguanas. Overnight, we sail around the seahorse-shaped Isabela Island to two great visitor sites: Punta Vicente Roca on Isabela Island (with the fascinating geology of the collapsed Ecuador volcano) and then wild and pure Punta Espinoza on Fernandina (one of the most pristine islands in the world, with one of the archipelago's biggest colony of marine iguanas and opportunities to see flightless cormorants). From there, we sail back around to Santa Cruz Island to visit the world-famous Charles Darwin Research Station, where scientists are involved in research and conservation efforts, the most well-known of which involves a captive breeding program for Galapagos giant tortoises. After that, we'll spend the afternoon enjoying a range of activities. The following day finds us on Floreana Island, exploring its human history and stunning wildlife at both Post Office Bay and Cormorant Point. The next day we say goodbye to the Galapagos Islands after an amazing journey!
ROUTE WESTERN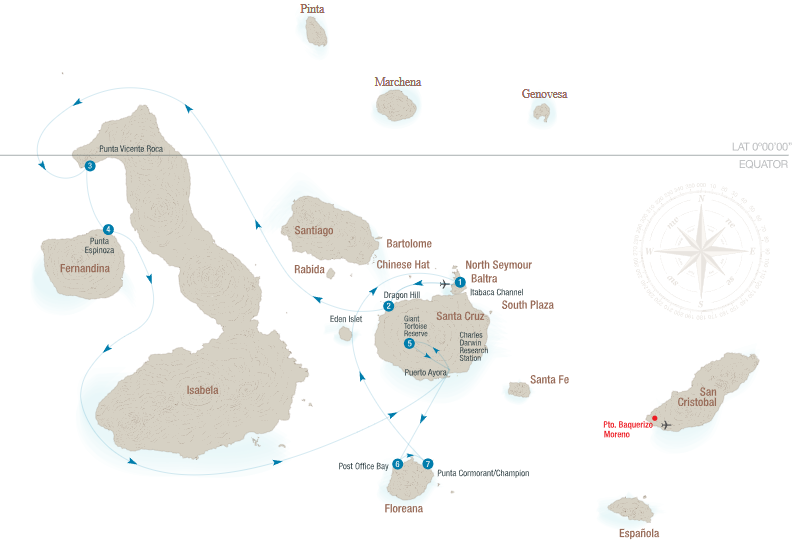 DAY BY DAY
THURSDAY
Day 1 - Baltra & Santa Cruz Islands
Baltra Island

You will arrive at Baltra Island via plane in the morning and then transfer to the dock to board the Santa Cruz II Galapagos Cruise. After an introductory briefing onboard, we will partake in an emergency boat drill, after which you will be assigned to your cabin and then be invited to lunch. Cerro Dragon (Dragon Hill) [Santa Cruz Island] The north shore of Santa Cruz hosts the fascinating landscapes of Cerro Dragon (Dragon Hill). The first part of the walk here passes by a brackish-water lagoon that's frequented by shorebirds, ducks and American flamingos. Further inland, the trail offers a beautiful view of the bay and the western islands of the Galapagos, as well as a chance to check out some land iguanas.