Santa Cruz Northern Islands
NORTHERN ISLANDS
(Monday - Friday) 5 days / 4 nights.
Our Northern Galapagos cruise itinerary together begins at Baltra airport, from which we'll sail to the glorious white beach of Las Bachas with a pair of brackish water lagoons only a few steps from the sea. These lagoons serve as feeding grounds for various wading birds, including stilts, pintail ducks, and flamingos. As we continue our voyage, we explore two fascinating visitor sites on Santiago Island: Buccaneer Cove, home to a large number of marine birds, sea lions, and inter-tidal organisms; and Puerto Egas, with its fantastic tidal pools that are full of life and good snorkeling and swimming opportunities. The next day we visit the red-sand beach of Rabida Island along with a lovely trail around some cliffs and a popular spot for aquatic activities, with some of the best snorkeling in the Galapagos Islands! In the afternoon, we round out the day with a stop at Bartolome Island, which offers a volcanic viewpoint with room for hiking, swimming, and exploring the beach and the coast. Bartolome is one of the few spots in the Galapagos that will give you the chance to see Galapagos penguins. From here we sail northeast, crossing the equatorial line, to the sunken crater of Genovesa Island, home to thousands of marine birds. It feels like a world a million miles from our own. We finish with an incredible encounter with nature through which we respectfully share a wild habitat with giant Galapagos tortoises at a private reserve up in the highlands of Santa Cruz Island and then make our way to the airport at Baltra.
ROUTE NORTHERN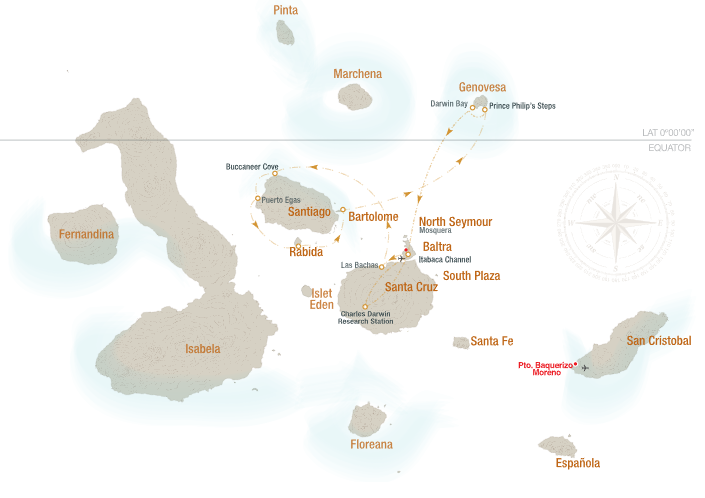 DAY BY DAY
MONDAY
Day 1 - Baltra & Santa Cruz Islands
Baltra Island
You will land in Baltra Island by plane in the morning and then take a guided transfer to the dock to board the Santa Cruz II Galapagos Cruise. After an introductory briefing onboard, all passengers will partake in an emergency boat drill. Afterwards, you will be assigned to your cabin and then be invited to lunch.
Las Bachas Beach (Santa Cruz Island)
This beautiful visitor site is located on the northern shore of Santa Cruz Island, where a glorious white beach awaits along with a couple of brackish lagoons that are just a few steps away from the sea. These lagoons actually serve as the feeding grounds of various wading birds, from stilts to flamingos. You are more than welcome to enjoy swimming and snorkeling activities at this beach, too. Afterwards, we will head back aboard for a welcome cocktail and an expedition briefing about the following day. Dinner is served shortly after this.