Santa Cruz - Eastern Islands
EASTERN ISLANDS
(Friday - Thursday) 7 days / 6 nights.
Our Eastern Galapagos cruise itinerary begins from Baltra Island, after which a short journey aboard the Santa Cruz II brings us to Mosquera Islet where we check out the sea lions before our sailing team heads towards San Cristobal. A stop at the Cerro Colorado Tortoise Breeding Center will open our eyes to the beauty of the Galapagos giant tortoise and to the important scientific work that continues to be done on the islands. In the afternoon, we travel to the most eastern tip of the archipelago, Punta Pitt, the only stop on this journey where we can (potentially) see red-footed boobies. From here, it's on to the central islands, starting with Santa Fe, with its beautiful tranquil bay, before continuing to the wild cliffs of South Plaza Island with its alluring cacti, land iguanas and stunning marine birds. The following day we visit the world-famous Charles Darwin Research Station on Santa Cruz Island. Then, Española Island, voted the #1 island by guides and expedition leaders, awaits with its remarkable visitor site of Punta Suarez, home to hundreds of marine iguanas, sea lions, marine birds, and even albatross (present between April and December) – making this a truly stunning site! In the afternoon, we enjoy the water at Gardner Bay. The following morning we will wake up at Eden Islet and finish the day at North Seymour, famous for its land iguanas and sea lions as well as bird colonies of blue-footed boobies, frigatebirds, and Nazca boobies. We finish at Baltra after a moving and memorable experience of the Eastern Galapagos Islands.
ROUTE EASTERN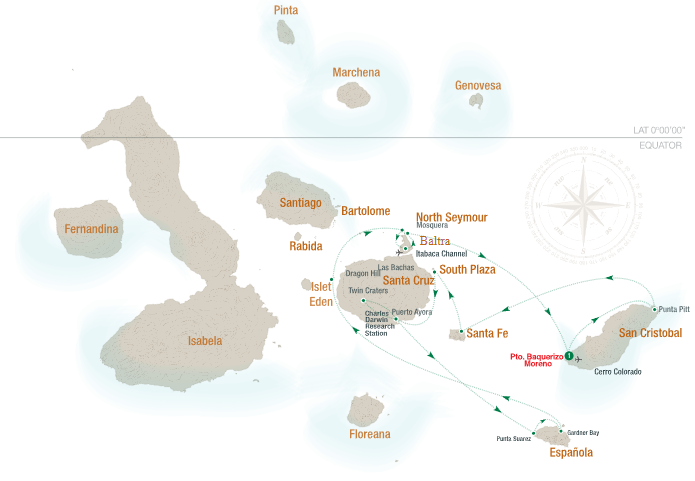 DAY BY DAY
FRIDAY
Day 1 - Baltra and Mosquera Islet
Baltra Island
You will land in Baltra Island by plane in the morning and then transfer to the dock to board the Santa Cruz II Galapagos Cruise. After an introductory briefing onboard, we will all partake in an emergency boat drill, be assigned to your cabin and then be invited to lunch.
Mosquera Islet
After lunch, the Santa Cruz II will sail and relocate just four nautical miles away from Baltra Island, right beside Mosquera Islet– a small piece of volcanic uplift that sits between the larger islands of Baltra and North Seymour. Mosquera Island is a long and narrow sandbank that's surrounded by lava reefs. The excursion group will approach the island from its western shore, which consists of a long shallow reef and acts as the perfect nook for young sea lions. After a wet landing, naturalist guides will lead you past the sea lion colonies, where you will get the chance to learn more about the fragile marine and terrestrial ecosystems of the Galapagos Islands. The walk is easy here, as it only involves walking across a few hundred meters of flat and sandy dunes.